Ali's grandmother addresses her dead son, Ahmed, in an ancient Sumerain style lament. Telling him how his 9-year-old son Ali, became mute after Ahmed was killed in battle. Watching Ali play with his sheep and having already lost her son, she worries for her grandson's well being. This becomes her painful narrative of the film.
Ali knows that his sheep, Kirmeta, is destined for sacrifice soon. He convinces his grandmother to accompany Hassan, his 17-year-old brother, on the journey of sacrifice.
Blessed by the grandmother's prayers, they embark on this perilous 400 km march. The sheep becomes increasingly resistant to continue the journey and tries to escape the bloody fate that awaits him.
Hassan is forced to carry the sheep and soon becomes exhausted. He tries to slaughter Kirmeta before they reach their final destination, but a cleric reminds them that it is forbidden to kill an ill sheep. Frustrated with Kirmeta pissing on him, Hassan walks off, leaving Ali alone with his sheep.
When Kirmeta runs away, Ali eventually finds him amongst carcasses of cars leftover from years of violence and false promises of freedom. Kirmeta collapses from exhaustion and people think he is dead. But with the continuous prayers of grandmother, Kirmeta mysteriously recovers. Witnessing this the pilgrims declare him a MIRACLE SHEEP, a reputation that accompanies them on the rest of their journey. Can both boy and sheep survive the hardship and accept their fate?
A lyrical hybrid film whose symbolism exposes the suffering of a nation whose only hope left is a mute child and his "miraculous" sheep.​​​​​​​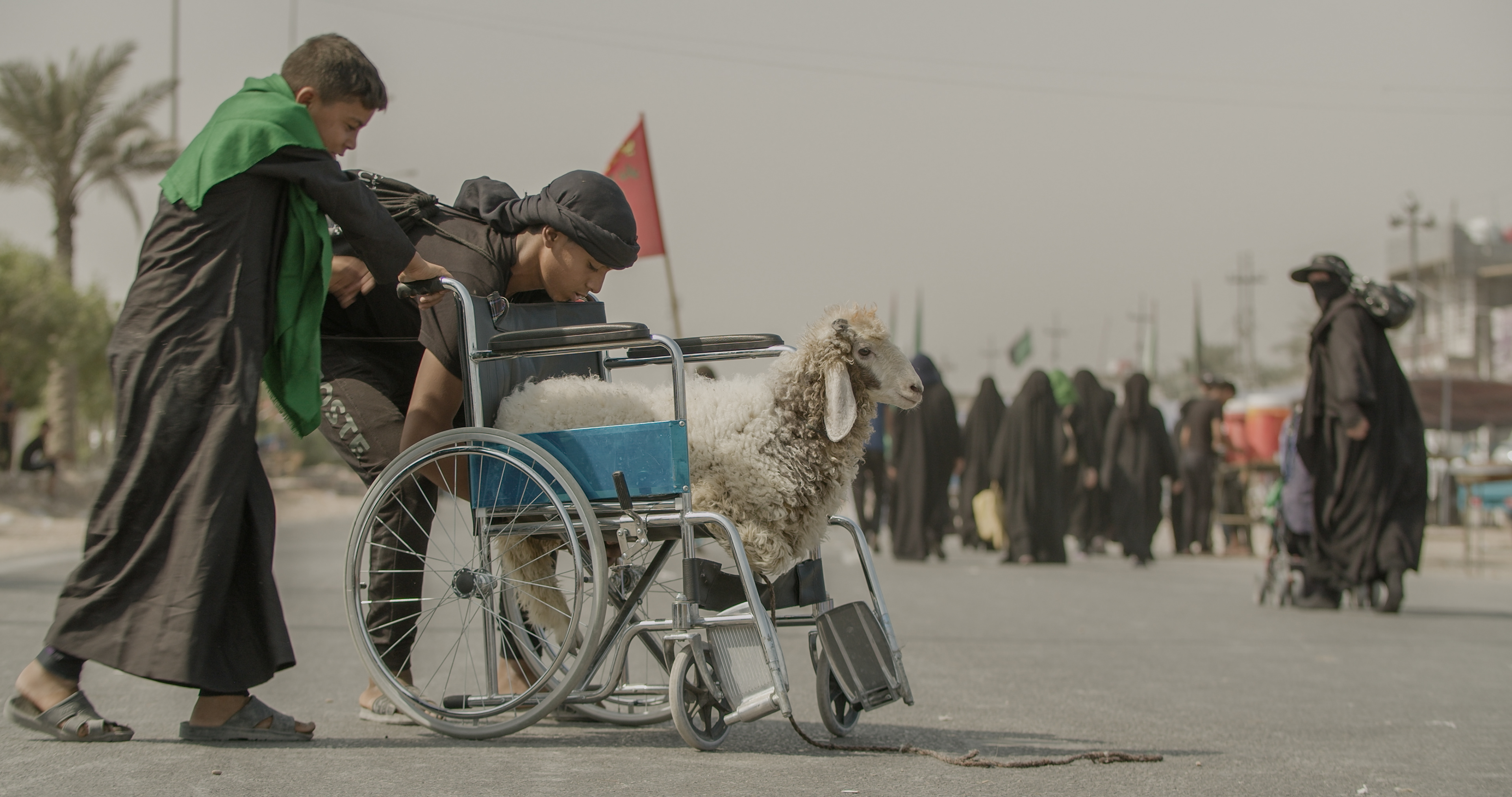 "THE JURY WAS BEWITCHED AND MOVED IN EQUAL MEASURE BY MAYTHEM RIDHA'S INTENSELY CINEMATIC AND LYRICAL FILM, WHICH HAS THE QUALITY OF AN INTIMATE EPIC IN SPITE OF ITS SHORT LENGTH. STRIKINGLY CONFIDENT IN BOTH ITS EMBRACE OF FORMAL HYBRIDITY AND TONAL AMBIGUITY, THE FILM SHIFTS DELICATELY FROM MOMENT TO MOMENT IN A FLOW OF IMAGERY THAT IS AT ONCE BEAUTIFUL, ABSURD AND UTTERLY HEARTBREAKING. ALI AND HIS MIRACLE SHEEP MADE US CONSIDER THE VERY MEANING OF "BRITISH CINEMA", WHEN THE FATES AND LIVED REALITIES OF INDIVIDUAL NATIONS ARE SO INEXTRICABLY BOUND UP WITH THE ACTIONS OF OTHERS."

 - 
Jury report on Best Film Award at Sheffield Doc Fest UK Competition.
"ALI AND HIS MIRACLE SHEEP, MIXES FACT AND FICTION TO TELL THE STORY OF NINE-YEAR-OLD ALI AND HIS DECISION TO TAKES HIS SHEEP, KIRMETA, FOR SACRIFICE ON A STRENUOUS 400KM JOURNEY ACROSS IRAQ'S WAR-RUINED LANDSCAPES TO THE SHRINE OF AN ANCIENT SAINT... WHAT HAPPENS TO KIRMETA IS DECLARED A MIRACLE. HOWEVER, WHAT FEELS THE MOST MIRACULOUS IN THIS FILM IS THE PEOPLE WHO HAVE SURVIVED SUCH UNIMAGINABLE LOSS". - 
Review of Ali and His Miracle Sheep by 500 days of films.
"A STARK REMINDER THAT THIS FILM ISN'T JUST ABOUT GETTING A TIRED SHEEP FROM ONE PLACE TO ANOTHER BUT THE COLLECTIVE MOURNING OF THE IRAQI PEOPLE FOR THOSE LOVED ONES LOST OR PERHAPS TAKEN IS THE BETTER WORD. THEIR GRIEF AND LAMENTING, COMBINED WITH THE FESTIVAL ATMOSPHERE OF THE PILGRIMAGE IS SO ENTIRELY ALIEN TO ANYTHING I HAVE EVER BEEN A PART OF, THAT WHEN A MOMENT OF WRY HUMOUR APPEARS IT THROWS THE REST OF THE WORK INTO STARK RELIEF."
- Mydylarama - Pick of Sheffield Doc Fest - Ali And His Miracle Sheep by Anna Dawson-Hart.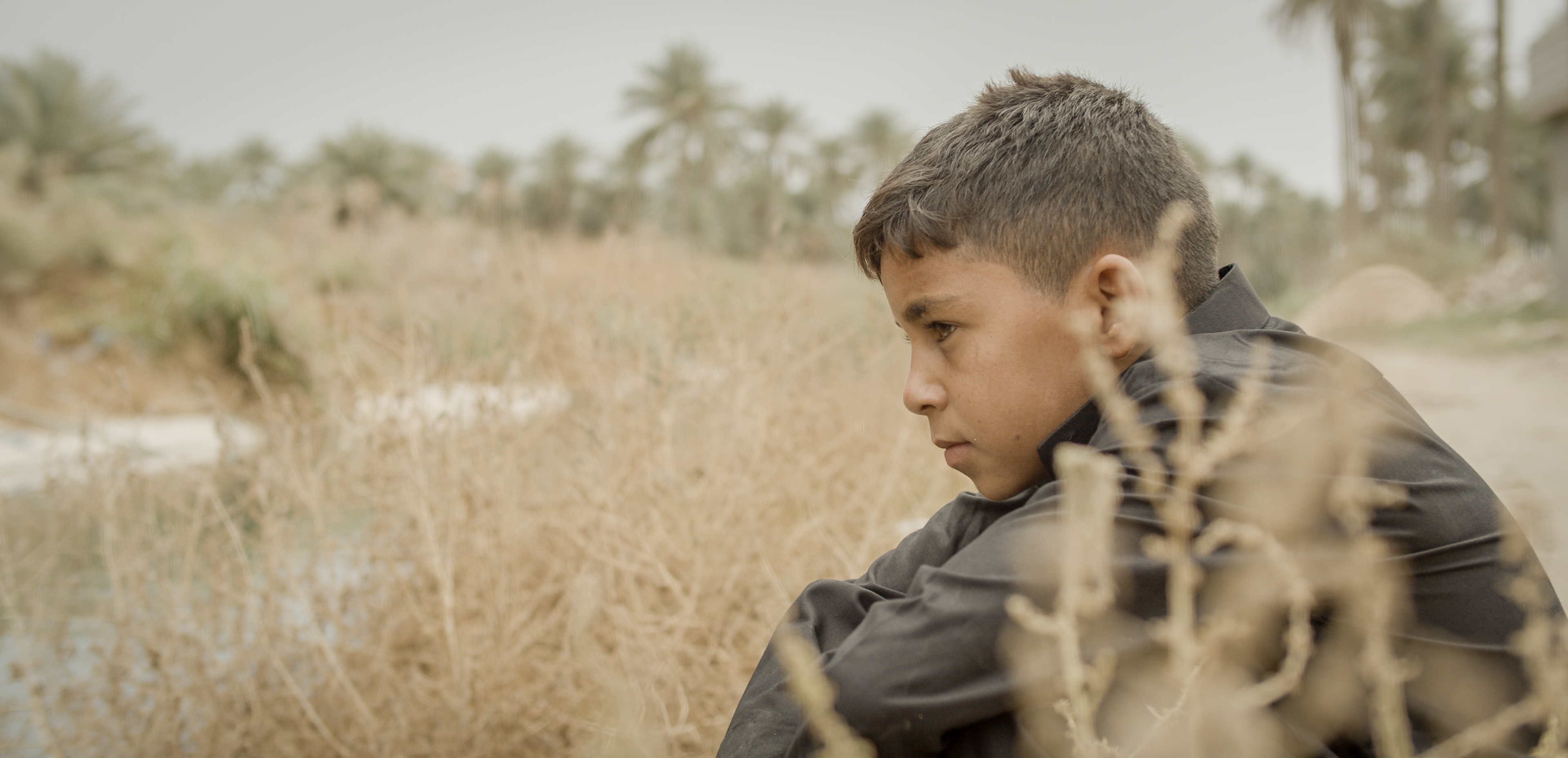 • Winner of Best Film Award at Sheffield Doc Fest UK competition 2021.
• Clermont-Ferrand International Short Film Festival - Official Selection for International Competition.
• Flickerfest - Official Selection for International Short Documentary Competition. 
• Cork International Film Festival - In Competition for Grand Prix Int. Shorts & Grand Prix Doc Shorts.
• IDFA - Selected pre- completion of the film into Docs For Sale.
• Leeds International Film Festival -Official Selection -Leeds Short Film Awards | Doc Shorts Panorama
• Middle East Now Festival - Special Programme - Screening and Masterclass by Maythem Ridha.
• Bradford Literature Festival - Special Programme - Screening and Masterclass by Maythem Ridha.
• Cambridge Film Festival - Official Selection - Shorts to Journey.
• Florence Film Awards - Winner of Best Short Documentary Award.
• Golden Shorts Film Awards- Golden Director Finalist.
• London Movie Awards - Best Short Documentary - Honourable Mention.
• Sydney Short Film Festival - Nomination for Best Director Award.
• FRONTDOC International Documentary Festival - In Competition - finalist for Medium Length Doc.
• Aesthetica Short Film Festival - 9/11 Twenty Years On - Special programme & Introduction by Maythem Ridha.
• Official Selection by the Iraqi Film Institute for its NEW NARRATIVES programme to represent Iraqi cinema at international film festivals and markets for 2021.
• Selected for the award-winning anthology IRAQI TALES, a body of stories for film, which Maythem Ridha wrote at the University of Oxford and then at the National Film & Television School (UK) From this DRIFTING ON THE WIND (ArRuh Ala ArRih), a film about childhood, was chosen by over 20 international film festivals, winning the Director's Award at Hearts & Minds. Following on from this AL-BAGHDADI, a film about a young Iraqi boy migrating to the UK, won the Gold Prize for Best Foreign Language Film at the International Filmmaker Festival.
• An article about Maythem Ridha's work and Iraqi Tales is published in Al-Sabah Al-Jadid, one of the premier Iraqi publications distributed inside Iraq and internationally.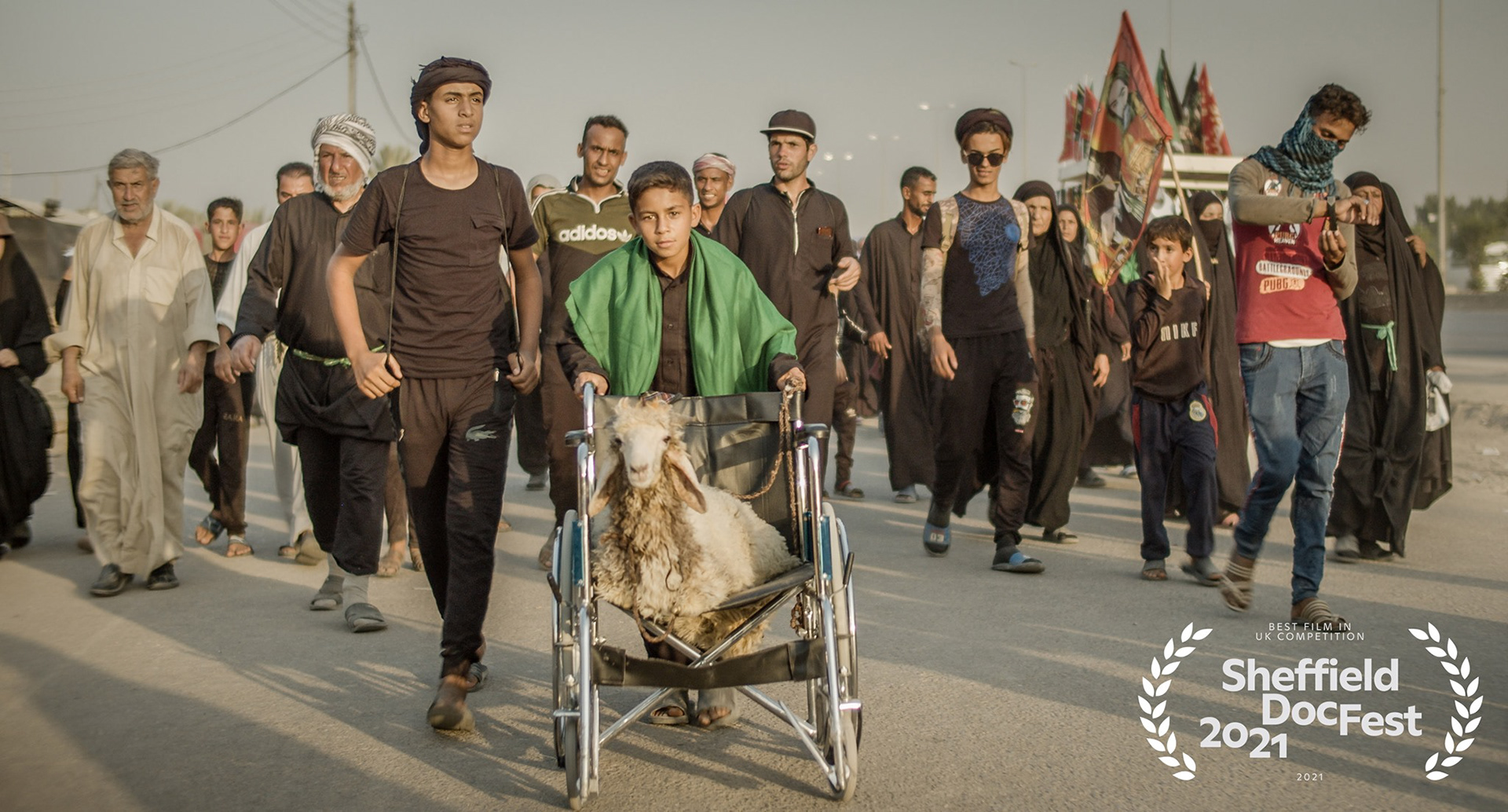 CREDITS:
Writer & Director: Maythem Ridha, Cast: Muslim Turkey, Muhammad Saad, Sabriya Muhi, Zahra Ali Sadek Hussein, Kirmeta the Sheep, Producer: Maythem Ridha, Co-Producers: Mostafa Nagy, Huda Al Kadhimi, Haider Jalokhan, Cinematographer: Duraid Al Munajim, Editor: Zainab Al-Hariri, Finishing & Online Editor: David Potter, Assistant Producer: Zainab Al-Hariri, Assistant Director: Hassanain Al-Hani , Sound Design: Kim Tae Hak, Colour: Carl Thompson, Graphics: Ibrahim Ahmed.